Unique From the Dutch Garden
Born: 22.6.2012
Heigh: 67cm
Weigh: 50 kg
Sire: Pic D´Anie Broadway Boogiewoogie
Dam: Waike From the Dutch Garden
HD 0/0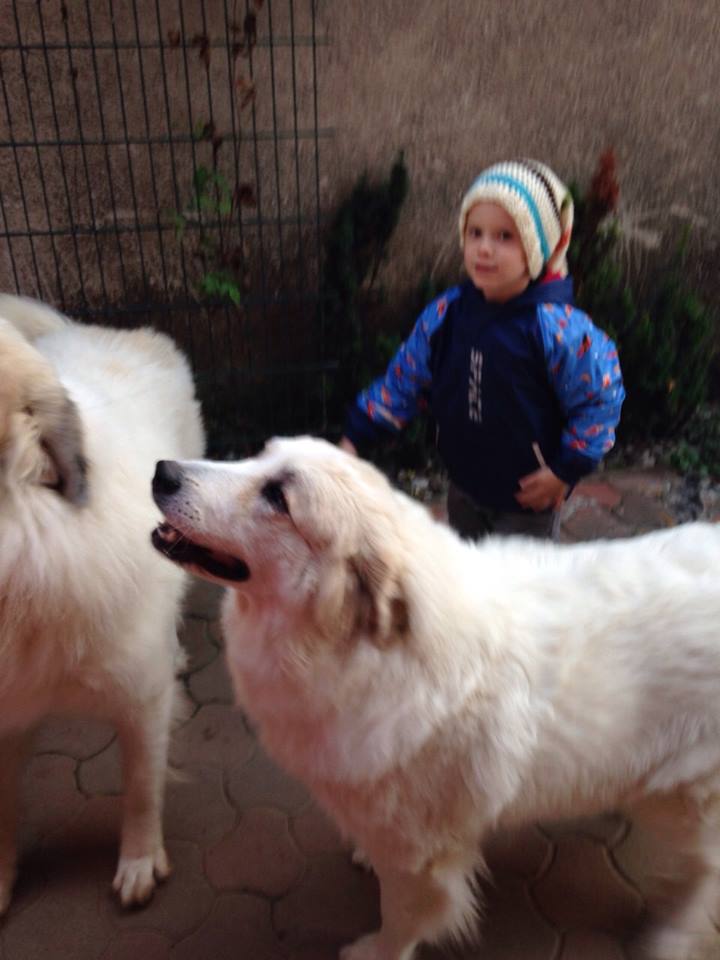 Characteristic:
As right " Pyrenean girl" , Niki is more vigorous...Our little
Dutchwoman can be recognized by her temper and good heart. Undoubtedly, she can
identify and pacify all the unwelcome guests and as for the " right ones", those guests and dogs who are always
welcomed, greets, although a bit louder, with so much more pleasure.
She loves her family, especially children, who can run
about with her even all day. As she can make anybody " to be on the alert" , she can
also be incredibly gentle and nice. She is
all-round "girl". She often welcomes us with lump of clay on
her nose and dirty paws, perhaps she carefully prepares ikebana made up of branches and flowers picked off
their roots or heroically kills "twenty-meters-long green snake", which
she found while it was quietly laying on the lawn....grass will survive for a
while, buying a new hose doesn´t take long, fortunately :)
Niki is excellent mummy of our, up to now "A" litter.
Unique and characteristic according to the breed:
Niki is middle-sized female dog, her limbs are of very good angle, she has
nice typical head, correct frontal slope, good eyesight - both shape and
colour, correct scissor occlusion, correct pigmentation, correct position
and length of ears, well based and borne tail, joyful movement, double
dewclaws.
Shows:
Slovak junior champion
Slovak champion
Slovak grand champion
Club champion od KPP
13.10.2012 Club show of KPP Olšany,puppy class,very promissing1,judge Pocas
1.12.2012 IDS Nitra ,puppy class, very promissing 1
2.12.2012 IDS Nitra, puppy class,very promissing 1, judge Jan Gajewski
23.2.2013 IDS DuoCacib Nitra ,puppy class,very promissing 1, judge Boroš Djevi
31.5.2013 National dog show Senec,junior class,excellent 1, CAJC,judge Milan Bíroš
1.6.2013 IDS Grand Prix Slovakia Nitra,junior class, excellent 1, CAJC, Junior BOB, BOB, Grand prix Slovakia Junior winner 2013, judge Havelka
2.6.2013 IDS Derby winner show 2013,junior class,excellent 1, CAJC, Junior BOB, Derby winner 2013, judge Václavík
26.10.2013 IDSDanubeDuocacib Bratislava,intermediate class, excellent 1, CAC, CACIB, BOS,judge Naveda
27.10.2013 IDS DanubeDuocacib Bratislava,intermediate class, excellent 1, CAC, res.CACIB,judge Szutkiewicz
30.11.2013 IDS Nitra,intermediate class,excellent 1 CAC, res.CACIB,judge Konrad
1.12.2013 IDS Nitra,intermediate class, excellent 1, CAC, judge Pettkó
29.3.2014 IDS Nitra,intermediate class, excellent 1, CAC, judge Kuriš
30.3.2014 IDS Nitra, intermediate class, excellent 1, CAC, judgeBoza
30.5.2014 National dog show Senec,champion class,excellent 1, CAC,judge Gargušová
31.5.2014 IDS Nitra Grand prix Slovakia,excellent 1, CAC, res CACIB, judge Kozlowska
1.6.2014 IDS Nitra Derby winner show,champion class,excellent 1, CAC,res. CACIB judge Mirja
29.11.2015 IDS Nitra,champion class, excellent 1, CAC, CACIB judge Kuriš